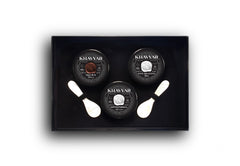 There are many reasons to order caviar online. Discover why executive chefs and caterers are ordering their caviar online instead of making the trip in person to the local gourmet shop.
 Freshness
Skip the middleman.  And forget the nightmare & storage of a retail shelf where it may sit for a few weeks.  You can get it tomorrow.   Our caviar is shipped in a custom insulated shipping kit that includes a pound and a half of gel ice, which keeps the product safe in transit for 30 hours at 28-38 degrees Fahrenheit. At your next fine dining event, impress your guests with the freshest roe from Khavyar, your online headquarters for the finest and most celebrated varieties of fish-eggs from around the world.
 Selection
Retailers have to purchase inventory.  We don't.  It's also possible that your local gourmet store has a limited selection compared to our extensive online collection of fine caviars.   At Khavyar, you'll find a delightful variety of our finest imported and domestic roes, including our most popular, the Beluga Siberia Caviar from Italy. This caviar variety is known for its large, soft roe and delicate flavors. We also offer several types of Osetra caviar, including our Osetra Galilee Prime Caviar, which was raised in the pristine waters of Dan Springs in Israel. This variety of fish-eggs makes a delicious addition to the appetizer tray with rich hazelnut flavors and firm, medium-sized pearls. Our online selection also includes Siberian Gold Caviar from Belgium, which has a delicious buttery flavor with hints of sweetness. You also have the choice of several types of Sturgeon caviar, including Sturgeon White and Sea Trout Rainbow.
 Convenience
Instead of making the trip to a brick-and-mortar store, buy online from Khayvar without even using a computer. Simply order on your phone before 2pm ET Monday through Thursday for next day delivery. Orders placed on Friday, Saturday, or Sunday will be processed the following Monday for a Tuesday delivery. Orders of $200 or more also receive free shipping, another reason to buy online from Khavyar.
Since 2015, Khavyar has been proud to ship a selection of sustainably farm-raised caviar from the most pristine environments in the world. Shop Khavyar today and treat yourself to the finest imported and domestic roes for your next special occasion.