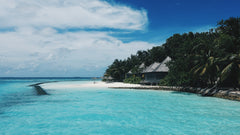 Turning the corner into August, it may feel as if the once-limitless possibilities of summer are slipping through your fingers. But don't despair: There's still an entire month of plans to be made. Embrace the jet-set lifestyle at its finest and add these destinations to your itinerary— with luxury accommodations, incredible dining, and just the right balance of excitement and restorative lazing. This month may well be the best part of the entire summer.
The Cambodian Coast
Travelers who were once discouraged by the lengthy process of reaching Cambodia's coast can now rejoice: direct flights to the coastal airport in Sihanoukville have been added, making it easier than ever to enjoy this beach paradise. Make yourself at home on the Koh Rong archipelago, opting to stay at Song Saa Private Island. Spread across two of the islands, these luxury lodgings are composed of individual villas equipped with their own private seaside plunge-pools. Opt for the "bioluminescent swim" during your stay to experience the haunting beauty of light-producing sea life, then take things easy with an eco-luxe spa treatment or two.
St. Ives
This coastal Cornwall town boasts Mediterranean-style beaches, a world-class art museum (one of four Tate museums worldwide), and a population of sunbathing seals. Stay at one of the town's elegant-modern boutique hotels, but keep the trip's focus outdoors: between the lush landscape dotted with art and the almost-absurdly picturesque wharfs, there's plenty to see. Alternatively, stay at Black Moon, a private apartment with a decadent, romantic feel: it even houses its own subterranean cave, fitted with large windows for best viewing the most memorable seaside sunsets. Dine on seafood and enjoy the city's unique craft cocktails, but be sure to enjoy some of St. Ives' best ice cream as you stroll— an indispensable element of any beach trip.
Hampi, India
A visit to the 14th-century capital of the Vijayanagara Empire is a must— banana groves cover the landscape, providing a lush backdrop for the architectural marvels of the settlement's ruins. Make your stay at Hampi's newest luxury accommodations: individual suites that echo the surrounding Vijayanagara architecture boast private pool courtyards and expansive living and sleeping areas. After exploring the ruins, relax by indulging in some of India's most ancient wellness traditions at the onsite spas.
The cache of these additions to your summer travel list lies in the fact that they offer experiences that simply can't be found elsewhere. From kayak tours and night swims in the untouched beauty of Cambodian islands, to one of Europe's best beaches found in an unsuspecting port town, to an unparalleled spa experience informed by generations of tradition, these travel destinations make the most of the last month of summer with their once-in-a-lifetime offerings. If your calendar isn't yet filled up, be sure to go beyond the tried-and-true summer trips to indulge in extraordinary luxury.