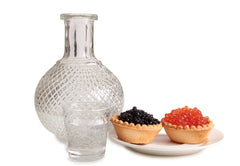 "He" already has all the neck ties that he likes & will wear; they were selected with suits he purchased. 
"He" doesn't want cologne.  "She" does.
If you purchase anything for his "shop", you're the tool. 
Get him booze & caviar. 
The quick & easy way to determine how much caviar you'll need is easy – 1oz or 30 grams for every 2 people.  Obviously, if you have enthusiasts, you'll want to consider more & additional varieties.
For the unassuming Father who might criticize how much you spent on a gift, we suggest something domestic.  These are great choices…
Imported varieties are more outspoken. These are some to consider…
For a little conversation with your caviar, here are some historical facts:
People looking for things to talk & write about trace Father's day back to the discovery of a 4,000-year-old stone tablet from the ruins of Babylon. A boy called Elmesu carved a stone wishing his father good health & a long life.
Sonora Smart Dodd celebrated the first Father's Day in the U.S. in Washington state on June 19, 1910 after getting the idea from a special sermon at her church honoring mothers.
1924 - President Calvin Coolidge recommended to Congress that Father's Day become a national holiday
Lyndon B. Johnson finally designated the third Sunday in June as Father's Day by executive order in 1966
Congress finally recognized Father's Day as an official national holiday during the Nixon administration in 1972
When you buy, don't forget the accompaniments.  You'll need spoons, blini & crème fraiche. 
Take in the full complexity of flavors by first tasting a small spoonful of the tiny eggs. Always use a Mother of Pearl spoon since metal will tarnish its delicate flavors. With premium quality caviar, balance out the mild saltiness with a dollop of smooth and tangy crème fraiche and add a sprig of dill for a vibrant dash of aromatics.
Show your appreciation for fatherly guidance and paternal wisdom with a selection of the finest import & domestic roe and everything you need for an authentic tasting.