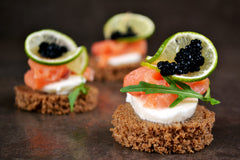 Simple.  It is an appetite stimulant, a French term that means a little bit of food.   An hors d'œuvre is an example.  They are not appetizers because they are not ordered, but are presented by the chef or host.
A selection of fine quality caviar is a great way to treat your guests to memorable amuse-bouche.
Be creative in your pairing presentations – simple blinis are timeless - add deviled eggs, salmon, trout.  Don't forget garnishes.  Not only are fish eggs full of nutrient dense super foods, but caviar is also an essential ingredient for extravagant eye pleasing presentations that exhilarate the atmosphere.
Patrick Brown, CEO of KHAVYAR, is passionate about his commitment to exceptional caviar. "Caviar is confident, elegant and the perfect, decadent addition to your holiday presentation," he says. "It can be enjoyed in a variety of ways—paired with a classic blini and crème fraiche or on top of a lobster roll—and always adds a level of sophistication to each dish."