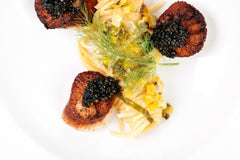 A wedding is full of unforgettable moments, which is why a selection of fine quality caviar is a great way to treat your guests to memorable amuse-bouche. Not only are fish eggs full of nutrient dense super foods, but caviar is also an essential ingredient for extravagant hors d'oeuvres. Discover how to garnish and display exquisite, delicate, and sustainably harvested caviar from Italy, Alaska, and other pristine environments.
Patrick Brown, CEO of Khavyar, is passionate about his commitment to exceptional caviar. "Caviar is confident, elegant and the perfect, decadent addition to your wedding menu," he says. "It can be enjoyed in a variety of ways—paired with a classic blini and crème fraiche or on top of a lobster roll—and always adds a level of sophistication to each dish." From the exciting collaboration of renowned chef Holly Goetting, the executive chef at Charley G's Seafood and Grill, get ready to impress your guests when you pull of these dainty and delightful appetizers.
A delicious combination is caviar and potato pancakes. The caviar is simply served in its original container next to a crystal bowl on crushed ice and presented with a mother of pearl spoon.
Chefs and caterers typically serve caviar with finely sliced white bread toast points or unsalted crackers with sour cream or crème fraiche to bring out the full caviar flavor. Finely minced parsley is a colorful addition to this delectable display.
Another attractive and popular way to serve caviar is on a vegetable such as a cucumber. Cucumbers are sliced into circles or diagonally on a serving tray, and adorned with a dollop of the finest caviar. Guests are then invited to carefully spoon on sour cream or crème fraîche for an exciting first course.
For another delicious and inventive combination, try Khavyar's popular recommendation of smoked salmon fingers and caviar. When these two delicacies are combined on a plate and garnished with chopped herbs and crème fraîche, the flavors are perfect for complimenting the rich caviar flavor.
For even more savor at the appetizer table, try a combination of smoked salmon stuffed potato skins and caviar. To make this delicious appetizer, caterers simply scoop out the baked filling of a potato and mix it with sour cream or crème fraiche. Then, the potato is dolloped with caviar and garnished with fresh herbs for a combination of exciting flavors that are perfect for impressing your guests.
Khavyar also offers fine quality wild-caught caviar that pairs well with simple foods such as your favorite craft brew and party snacks. Combine it with pretzels, crackers or other favorite chips for a little bit of crunch. Because fish-eggs are salt-cured, Brown recommends combining caviar with unsalted crackers for even more contrasting flavors.
Celebrate your nuptials and show off your epicurean side with a beautiful and dazzling display of luxury caviar from around the world. Order from Khavyar and make your wedding a cherished day with nuanced flavors from the Caspian and the Black Sea. With Khavyar's variety of price points and offerings of caviar from Israel, Belgium, Alaska, and Italy, get ready to share unforgettable moments at your next special occasion.