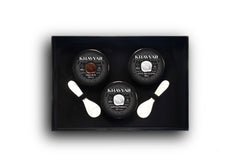 Caviar is a gift to remember.
Caviar is traditionally shared during the holidays, weddings & special occasions.  But no one associates caviar with Mother's Day…  You can begin a Mother's Day tradition of your own.  Surprise your mother with any number of selections from Khavyar.  Mother's Day will be a topic of conversation for your mother all year long.
Caviar defines luxury
There is a reason that Robin Leach touted Champagne Wishes & Caviar Dreams as his catch phrase.  It sets the standard.  Traditional pairings of champagne & vodka, blinis & crème fraiche are obvious.  And fantastic.  And usually predicated by the event, time of day, or time of year.  They will never go out of fashion.  But, if you want something different, this Mother's Day may be the perfect opportunity for a surprise party featuring domestic caviar on cucumbers with white wine or sparkling water.  Potato chips, French fries or beer topped with caviar could possibly be the most unique gift for Mother's Day she's received.  Be creative & eventful.  Or… stick with what always works.
Caviar is healthy
Caviar is Full of Health Benefits.  How does 'anti-aging' sound?  Caviar is loaded with Vitamin B12 – 10 times more than nature's multivitamin, chicken eggs.  Fish eggs can provide 10 times or more B12 than chicken eggs.   Jack Challem, author & nutritionist notes that 'Vitamin B12 is a component of numerous reactions that protect our genes, enhance cognitive function, and ward off cardiovascular disease.'  Linda Antinoro, R.D, L.D.N, J.D, C.D.E, senior nutritionist at Brigham and Women's Hospital, says that Vitamin B12 is vital for the body to produce healthy red blood cells. It also is needed for proper nerve function and DNA synthesis.  Caviar is rich in Vitamin A for skin, B2 & B5 for nerves, stress & migraines, D for the immune system.
Shop Khavyar online this Mother's Day for an original experience to be remembered. 
All online orders must be received before 2 p.m. EST to be processed for next day delivery.  Orders received on Fridays, Saturdays and Sundays will be processed the following Monday for Tuesday delivery. 
Saturday deliveries are not available online due to potential delivery limitations of this service to all areas. If you must have Saturday delivery, please email us at customer.service@khavyar.com to verify your area eligibility and to place your order directly. Saturday Delivery Rate is an additional $20.00 surcharge.