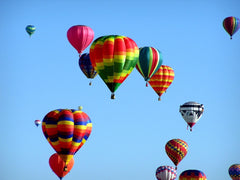 An event truly unlike any other, the Albuquerque International Balloon Fiesta offers guests the chance to see over 500 balloons take flight in the clear blue skies of New Mexico. Now in its 46th year, the event is heralded internationally as a spectacular display of hot air balloon feats, firework displays, competitive events, and more. To enjoy this unparalleled event in person, here's what you'll need to know about making the trip to the Duke City.
When to go
Occurring annually in October, the 46th Albuquerque International Balloon Fiesta will be held from October 7-15, 2017. Each day offers a different schedule of events, so be sure to check online to decide which events spark your interest. Each day's events kick off at 5:45 A.M., showcasing brilliant laser light shows against the wide-open Albuquerque sky— but those who aren't early risers can rest easy knowing that these displays repeat at nightfall, around 7:45 P.M.
How to get there
Regardless of when you plan to arrive on-site, be sure to factor in traffic. The grounds open around 4:30 A.M. and begin to fill up shortly afterwards, meaning that the surrounding area will be abuzz with activity. Combination event and transportation tickets can be purchased in advance, which provide you with the option of using the local train and a shuttle. Similarly, shuttle services from the surrounding parking areas are available for those with a car in tow. If you're staying nearby, however, the best option may be to bike— not only is there a complimentary bike valet service at the Fiesta, but some local hotels (such as Los Poblanos, below) offer complimentary bike rentals with your lodging.
What to do
While there are plenty of events to enjoy throughout the week, including several stages that will offer revolving acts of musical entertainment, there's one type of balloon display that is truly unmissable: the mass ascensions. These group ascensions feature hundreds of balloons taking to the sky at once in a spectacular display. There are four mass ascensions to behold throughout the Fiesta, excluding the special "Flight of the Nations Mid-Week Mass Ascension", which showcases balloons from 20 different countries, with each pilot carrying a flag. Equally essential are the Balloon Glow events at dusk, wherein ballooners fire up their burners on tethered balloons, lighting the sky with an enthralling glow.
Beyond the ascensions and Balloon Glow events, balloonists will engage in a variety of agility tasks, including ring-toss competitions from great aerial heights. For those not content to watch from the ground, balloon rides are of course available to be booked. For those who prefer to stay earthbound, there are also 300 acres of vendors to peruse, offering everything from local art to food to limited-edition collectibles.
Looking to upgrade your Fiesta experience? Chasers' Club or the Gondola Club tickets can offer you premium gated viewing locations, private dining experiences onsite, and a host of other exclusive experiences at the park.
Where to stay
For the full experience of all New Mexico has to offer, book a room in Los Poblanos, a bucolic bed-and-breakfast situated on 25 acres of lavender fields. Accented by woodcarvings, ironwork, and murals created by some of New Mexico's most influential artists of the 20th century, the inn itself is as enchanting as the exquisite gardens and organic farms surrounding it. Guests can opt to stay in suites in the property's 1930s dairy style buildings, surrounded by traditional white stucco walls, wood-burning fireplaces, and private patios that overlook the lotus ponds and gardens, or stay farther afield (literally) in the Field Suites, which offer up to 950 square feet of living space and boast breathtaking views of the Sandia Mountains. The inn's restaurant redefines "farm to table," offering seasonal delicacies grown just steps away.
For a more glamorous affair, opt for the Hotel Andaluz's Zsa Zsa penthouse, so named for Zsa Zsa Gabor who once spent a night on the premises— fitted with a full-size dining room, a large fireplace, and an extravagant copper soaking tub worthy of the star herself.