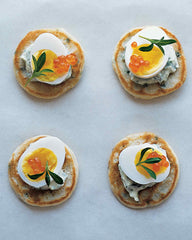 Image via Martha Stewart
On September 17, many of us will be gathering together to watch a parade of stars grace the red carpet on their way to the 69th Emmy Awards. What better time than during the awards to offer a bit of Hollywood-worthy indulgence to your guests? Echo the on-screen luxury with a few bottles of Champagne and, of course, some extra-enticing caviar hors d'oeuvres befitting even the most glamorous celebrities.
Caviar Potato Chips With Lemon Cream
We've all indulged in some potato chip snacking while watching television, but an occasion like the Emmys calls for a serious upgrade. In this recipe, crème fraîche with a hint of fresh lemon zest adheres luminescent salmon roe (or your personal favorite variety of caviar) to each potato chip, making for a most indulgent twist on this classic bite. Looking for an even more unexpected variation? This amuse-bouche can also be made using sweet potato chips and whipped goat cheese for a more autumnal presentation.
Makes 8-12 servings
¼ cup crème fraîche or sour cream
¾ teaspoon finely grated lemon zest
4 ounces Salmon roe or other caviar
Potato chips (thicker, kettle-cooked varieties are best)
Stir together the crème fraîche or sour cream and the fresh lemon zest. Arrange each chip on a platter and dot with crème fraîche mixture. Top with roe or caviar.
Parmesan Crisps With Caviar
This creative party food features one of our favorite entertaining tricks— aesthetically pleasing, deceptively simple parmesan crisps made in the oven. The final assembled treat juxtaposes architectural angles and enticing caviar pearls, creating a striking presentation worthy of an evening affair. We suggest using Siberian Gold caviar to complement the notes of Parmesan.
Makes about 8
1/2 cup shredded Parmesan cheese
1 ounce caviar
1/4 cup crème fraîche
Preheat an oven's broiler to 480-500 degrees. Line a baking sheet with either parchment paper or a nonstick silicone baking mat. Drop about 1 tablespoon of the shredded Parmesan onto the baking sheets into small mounds. Bake 5 minutes or until golden brown. Let cool completely before loosening with a spatula. Once room-temperature, top each Parmesan round with a dollop of crème fraîche and caviar.
Blini With Quail Eggs And Caviar
What's more luxurious than quail eggs? Quail eggs and rainbow trout caviar. Invite your guests to sample this elevated variation on two types of eggs as the Emmy Awards are announced— it'll be an unforgettable bite. While it's a bit more labor intensive, the final result (and the reactions of all who eat them) will be well worth it.
Makes 4 dozen

6 Tablespoons fresh tarragon, coarsely chopped, plus extra for garnish
Coarse salt
6 scallions, cut into 1/2-inch pieces
2 teaspoons Dijon mustard
1/4 cup canola or vegetable oil
1/2 cup crème fraîche
2 dozen quail eggs
Blini, warmed in a 350-degree oven before assembling
2 ounces trout or salmon roe
Prepare an ice bath and set aside. Bring a small saucepan of water to a boil with 1 teaspoon salt. Add the scallions, cooking just until they're bright green and just tender (about 1 1/2 minutes). Add tarragon leaves, and cook until bright green (about 20 seconds). Immediately transfer scallions and tarragon to the ice-water bath to preserve color. Let cool completely.

Drain scallions and tarragon, then squeeze dry in a clean kitchen towel. Transfer the mixture to a food processor and pulse until finely chopped. Add mustard and pulse again. With machine running, slowly add the oil in a steady stream. Process the mixture until smooth and thickened, about 1 minute. Transfer to a small bowl and stir in the crème fraîche. Cover and refrigerate until ready to serve (this can be made up to 2 days ahead.)

Prepare another ice bath and set aside. Place a dozen eggs in a saucepan large enough to hold them in a single layer and cover with 2 inches of cold water. Bring to a boil. Reduce heat and simmer for 1 1/2 minutes. Using a slotted spoon, transfer eggs to the ice-water bath and allow to cool. Meanwhile, repeat with remaining eggs. Once cool enough to handle, peel the eggs, dipping them in cold water if needed to remove shell pieces. (These can be refrigerated in an airtight container overnight.)

Pick 4 dozen small leaf clusters from remaining tarragon sprigs and set aside as a garnish. Halve the eggs lengthwise. Arrange blini on a platter. Spoon 1/2 teaspoon sauce in center of blini. Top each with half an egg, 1/4 teaspoon roe, and a tarragon cluster. Serve.