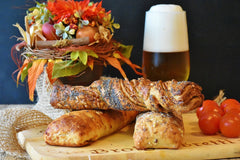 Contrary to what you might surmise from the name, Munich's world-famous Oktoberfest celebration actually takes place largely in September. To make the most of this time-honored tradition, be sure head to Munich mid-month: this year's festival begins September 16 and runs through October 3 (a date marked by a national holiday that celebrates the unification of East and West Germany). Here's how to get the most out of your trip, whether you've been planning a voyage to this one-of-a-kind event for years or you're new to the custom.
When to go
While Oktoberfest runs for about three weeks, the program of events will vary throughout that time— so it's best to plan ahead. The festival commences with a grand opening parade featuring intricately costumed groups, elaborate floats, and plenty of horse-led carriages. If catching the parade scene isn't a priority for you, feel free to arrive later on in the fest when live music acts are scheduled. Once you've decided which week to attend, be sure to show up bright and early at the fairgrounds— believe it or not, Oktoberfest commences at 9 A.M. on weekends (10 A.M. on weekdays). While that may seem early for some, rest assured that the tents fill up quickly and there will likely be a large crowd that arrived even earlier.
Getting there
Oktoberfest is held in Munich's 103-acre Theresienwiese (simply called Wiesn for those in the know). It's been held on this spot for 200 years, but newcomers will find it to be very conveniently located and reachable by U-bahn (subway). Of course, you may opt for a car to retrieve you afterwards— after a long day of imbibing the beer selection Munich has to offer, even a short trip using public transportation may seem taxing.
Where to stay
First and foremost, book your hotel early: Munich's coveted hotels will fill up quickly so it's best to plan your lodging as far in advance as possible to avoid dwindling options. Though you'll be spending most of your time at the fest, it's worth looking into what some of the more elevated hotels in Munich can offer— lodgings that cater to a more sophisticated clientele can be your ticket to anything from sought-after reserved seats in the Oktoberfest tents to special events during the fest. Staying too close to the fairgrounds can leave you feeling surrounded by tourists, but luckily Munich's transportation system is so accessible that location becomes less of an issue. Staying just one subway stop away opens you up to the Sofitel Munich Bayerpost Hotel, housed in a historically-protected former post office. This hotel boasts incredible spa amenities (in case you need to give your body a break from all the beverages) and French-Bavarian dining options, as well as rooms that balance the building's history with modern furnishings and features. If you skew more toward the high-design set, book a room in the hip Flushing Meadows Hotel & Bar— an eclectic, modern spot with a youthful rooftop bar worthy of any great metropolis, which offers private terraces that face the Alps, and unique rooms designed in collaboration with artists and celebrities.
What to bring
It's common for tourists and locals alike to don traditional Bavarian garb when attending Oktoberfest— for men, that involves leather shorts (lederhosen), while women wear the iconic dirndl (a laced-up bodice and full skirt). That being said, many attendees arrive in more casual fare, which is equally acceptable— just be sure you've left your finest jet-setting attire at home, as a serious quantity of beer tends to be spilled throughout the course of the fest. Keep accessories to a minimum for the same reason (and also because it's easy for bags and other items to get misplaced— especially as you move from tent to tent throughout the day). Arriving with the bare necessities is best— ensure you have plenty of cash, as each stein can cost upwards of 10 Euro, and tipping is the best way to receive consistent service from the often-harried waitresses.
How to drink
Oktoberfest is composed of several large tents, each providing a slightly different variation on the overall drinking experience. Since the tents fill up so quickly and tend to stay that way, aim for your top-choice tent at the beginning of the fest, and only stray from your bench seat if you're willing to wait for another one (you'll only be served if seated, so finding another space in a different tent is easier said than done). Every beer sold at Oktoberfest comes from a local Munich brewery, and each one is sold by the liter— there are no smaller orders, so be prepared to pace yourself and sip slowly. If you prefer to ease into your day of marathon drinking, try ordering a Radler— a refreshing half-beer, half-lemonade traditional beverage that's perfect for staying cool. Beyond these basic tips, just remember to brush up on your accent and say "Prost" (German for cheers) when clinking steins— after a few rounds, you may find you've picked up the words to a traditional German drinking song, too.
Though each tent has a slightly different aesthetic and atmosphere, the overall setup is the same. We suggest starting off in the Schottenhamel tent— not only is this the main spot, where the festival's first keg is tapped each year, but it boasts a youthful, infectiously fun party atmosphere throughout the duration of the fest. Dancing is common in this tent, and you're sure to make a few friends here. If you're in search of a more subdued style, hope for a coveted seat at the Marstall tent— considerably smaller in size, it has a more personal, sophisticated atmosphere to match.
What to do
Though famous for its drinking culture, Oktoberfest is more than just beer— it's also a family-oriented festival with music, carnival rides, and other attractions. While spinning rides like the Teufelsrad ("Devil's Wheel") may not appeal to the experienced drinker, it makes sense to take a lap around the huge festival grounds and see all that's on offer— the Ferris wheel, for instance, showcases breathtaking views of the city. Break for lunch to enjoy a roast chicken, sausages, giant pretzels, or even roasted ox to offset all that beer intake. Those with a sweet tooth can enjoy traditional varieties of gingerbread, as well as a variety of German pastries. There's even a wine tent— though we suspect many attendees will choose to stick with one type of alcohol for the duration.
After the fest
Upon leaving the fairgrounds, you may find you're tired out from the day's events— but there's still plenty of Munich to explore. The city is beloved for its markets, culture, and food alike. After resting up and re-hydrating a bit, treat yourself to a relaxing dinner, stroll along the Eisbach river, and enjoy all that Munich has to offer.