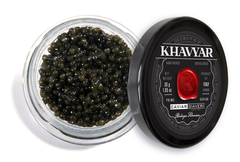 Caviar has always been known as a luxurious delicacy - a rarity often considered reserved for wealth & sophistication.  Today we are seeing many people enjoy & appreciate caviar for the health benefits, as well; not just the bon vivant, but making many the connoisseur.
Super Food
The term 'Super Food' came about in the early 20th century. Fast-forward 100 years and the term has taken on slightly different interpretations, but they are all based on the preface that Super Foods are inherently nutritious and provide a high level of health benefits and caviar fits this description.
Caviar As A Super Food
The array of health benefits provided by caviar is broad enough to be able to benefit almost anyone.
Overall Health and Nutrition
Speaking to overall health, enjoying caviar is a great way to add a Protein, Iron, Vitamin B-12, and Omega-3 fatty acids (among other vitamins and minerals) while watching the amount of calories you're eating. In fact, the recommended serving size of caviar (one ounce) contains only 75 calories- that's a lot of nutrition packed into a single portion!
It is, however, always important to remember that over-indulging in anything can be harmful, and while the amount of calories are low per serving, a single portion of caviar also provides about 18% of the recommended daily value of sodium, so keep that in mind.
Source: USDA
Cardiac Health
Many times, cardiac patients change their diets as part of their preventative or recovery program, and the fatty acids from fish and fish oils have been proven to assist in improving cardiac health. Caviar is a great source of Omega-3 Fatty Acids which help overall cardiac health and blood pressure, and they won't interfere with statins and other lipid-lowering drugs or antihypertensive medications.
Neurological Health
Not only do the Omega-3 fatty acids in caviar play a role in maintaining good heart health, but they're also good for your brain. Omega-3 fatty acids help by reducing the amount of inflammation in the brain which decreases cognitive function, which can lead to Alzheimer's.
The DHA and EPA contained in Omega-3 fatty acids has also been shown to help treat depression without interfering with medication that one may be already taking.
Immune Health
We see, once again, the health advantages that Omega-3 fatty acids offer as we analyze the immune system benefits of enjoying caviar. Omega-3 fatty acids strengthen the skin, intestinal lining, and airways in the lungs to block that passage of bacteria.
In addition to protecting the body's barrier, Omega-3 fatty acids decrease inflammation and promote white blood cell repair, which helps to protect one from disease.
Reproductive Health (for Men)
Eating caviar can improve male fertility by stimulating the production of testosterone, raising levels of energy, and increasing circulation and blood flow throughout the body thanks to the L-Arginine, protein, and Omega-3 fatty acids it contains.
Shop for Caviar Online
There's never been a better time to enjoy caviar in good health with good company. Our exquisite collections of caviar are sure to have something you'll love to devour shipped straight to you.
Why stop there? Why not give the gift of good health and luxury with a Khavyar Gift Card?
Shop today, and see for yourself how delightful it is to enjoy the decadence of caviar in good health!